Almena Meat Company offers a HUGE variety of brat flavors!
Brat patties also available.
Regular Brats $3.99/lb
Flavored Brats $4.49/lb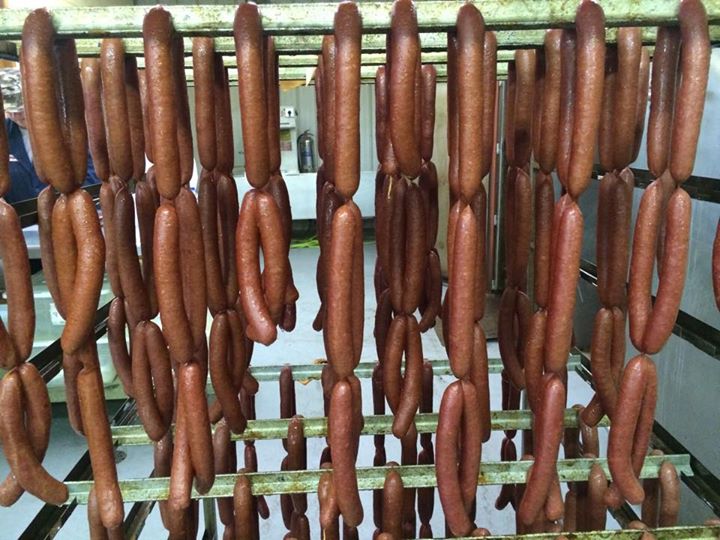 Almena Meat Company – Brats
At the Almena Meat Company, you will find a wide variety of world-class homemade brats and other sausages. When brats are what you need, you need to come to the Almena Meat Company!
Variety is the Spice of Life
Sometimes, it's hard to just choose one flavor. We understand. That's why we offer a huge selection of flavored brats. At the Almena Meat Company, you don't have to limit yourself. Try Apple, Honey Mustard, Pepper Jack, Buffalo Wing, or Beer and Cheddar. Or try Philly Cheese Steak, Bleu Cheese, Habanero Mango, or Onion and Bell Pepper.
Still not sure? We offer over two dozen more! Because we offer so many choices, our customers can find exactly what they want.
Oh, and the Packer makes the perfect game day starter! Just saying. (Although the Tailgater makes for a solid back-up choice.)
If a sausage isn't exactly what you want, we also offer brat patties. Add some flavor for even more variety. The choice is yours!
But if you're not at least trying the Parmesan, the Kraut, or the Bacon Cheeseburger, you're doing it wrong.
Local Time
We make our brats on site. We also source our meat locally, so that we can offer you only the freshest, high-quality products. Since we use local ranches and farms for our meats, we can better ensure the quality of our products. We are committed to the idea that local, sustainable sourcing makes for fresher, higher-quality products.
Quality and Safety
The Almena Meat Company is an "old fashioned" family-operated facility founded in 1988. We are a state-inspected meat processing facility and carefully follow all state and federal regulations. We also follow strict rules of sanitation procedures. The proper handling of our products, from start to finish, ensures safe and healthy products for our customers.
Apple
Baked Potato
Bacon Cheddar
Beer
Beer & Cheddar
Broccoli & Cheese
Buffalo Wing
Chili
Chili & Cheese
Fajita
Habanero Mango
Hawaiian
Honey Mustard
Jalapeno
Jalapeno & Cheese
Kraut
Mushroom & Swiss
Pineapple Teriyaki
Onion & Bell Pepper
Onion & Garlic
Packer (beer brat w/ green onion & cheddar cheese)
Parmesan (totamo basil)
Regular
Pepper Jack
Piza
Ranch
Steak
Steak & Cheese
The Works (vinegar & horseradish)
Wild Rice & Mushroom
Philly Cheese Steak
Bloody Mary
Bleu Cheese
Bacon Cheese Burger
Mozza Mushroom
Tailgater (onion, tomato & mustard)